NOTE: CLICK HERE for Penny Simkin's
current childbirth class dates and registration info.
Reading Materials (included in class fee):
Pregnancy, Childbirth, and the Newborn;
The Birth Partner, 5th edition
Additional handouts, provided during class.
Class Fee:
$350 ($340 if you already have the books)
A video of an out of hospital birth or another relevant topic will be shown at most classes
Home & Birth Center Class Dates
We recommend a class that ends 2-5 weeks before your due date. Penny's childbirth classes fill quickly and early – we highly recommend you reserve your place in as early as possible.
NOTE: If you are giving birth at a hospital-affiliated birth center (such as the Swedish Ballard or Swedish First Hill Birth Centers), please register for Penny's classes at the Great Starts of Parent Trust website. The classes below are for students giving birth at home or in a free-standing birth center.
*Penny's classes are held at the Center for Birth on Eastlake Ave, April's are taught in her home in West Seattle; directions will be provided prior to class start date.
Class not available?
If our classes are full or we don't have a date that works for you, we highly recommend Sharon Muza's

Birth & Baby YOUR Way Childbirth Class Series.
Meet April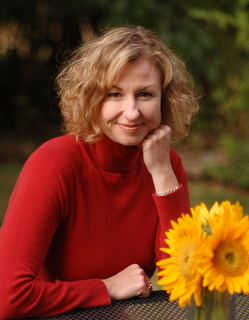 Dr. April Bolding, PT, CCE, CD is a physical therapist who specialized in perinatal issues after giving birth to her first child. She holds a doctorate in physical therapy, is a childbirth educator and consultant, birth doula, water fitness instructor, presenter and author. She teaches out of hospital birth preparation classes through Penny Simkin's office as well as private childbirth classes in her residence. She is a physical therapist who specializes in Women's Health. She helps women of all ages, including pregnant and postpartum mothers who are experiencing pain or dysfunction in their bodies, including their pelvic floor. She is co-author of Pregnancy, Childbirth and the Newborn and a contributing author to Our Bodies Ourselves Pregnancy and Birth. You can find out more about her services at her website, Birth Portal.com.
Meet Katie
Katie Rohs, CD(DONA), LCCE – I am a DONA certified Birth Doula and Lamaze® certified childbirth educator.  I've also been trained in disability advocacy by the ARC of King County, and am a Parent Trainer through the Finding Your Voice program of the Washington State Education Ombudsman. I draw from my experiences with a late-pregnancy loss of twins and as the mother of a child with multiple disabilities to help expecting families empower themselves and advocate for their growing family during their birth and in years beyond. I also work as Penny Simkin's administrative assistant. I endeavor to increase the confidence of those taking my classes, while balancing realistic expectations. I am a friend for current research and evidence, and balancing it with what families might actually expect in their birth setting. I particularly enjoy discussing the expectations, values and priorities each family brings to their childbirth, and the confluence of these expectations and typical labor experiences. I am the proud mother of teenage twins, Hank & Lily, and wife of forty-something singleton Todd. In my free time I dabble in political consulting and organic gardening. I studied Sociology at the University of Washington and was in the Husky Marching Band. As such, I bleed purple and gold and despite being a rabid UW Husky fan, I do not discriminate against Cougars. You can read more about me at my website, www.birthtastic.com.
Meet Kathy
Kathy Wilson, CPD(CAPPA) – It is with great pleasure that I pass on my experience as a parent. Since I am able to "remember when", I can empathize with the new mom. I am a certified postpartum doula and childbirth educator, and just as importantly, I am the mother of three grown boys. Because information is always changing, I strive to educate myself with the latest news in breastfeeding, newborn care, and postpartum issues through classes, workshops, books and articles. I am also an American Heart Association certified CPR instructor, a H.U.G. Your Baby teacher and a certified maternal and infant sleep consultant. I am a member of and certified through CAPPA (Childbirth And Postpartum Professionals Association) and La Leche' League. When I'm not teaching, I'm at the office of Penny Simkin, helping her with bookkeeping, class communication, and giving her dog, Lola, treats when Penny is out of town. You can read more about me at my website, www.fourthtrimester.com.