Reading Materials: Pregnancy, Childbirth, and the Newborn; The Birth Partner; and handouts. (Both books are included with the class fee.)
Class Fee: $300 ($290 if you already have the books)
(A video of an out of hospital birth or another relevant topic will be shown at most classes)
Home & Birth Center Class Dates
We recommend a class that ends 2-5 weeks before your due date. Penny's childbirth classes fill quickly and early – we highly recommend you reserve your place in as early as possible.
NOTE: If you are giving birth at a hospital-affiliated birth center (such as the Swedish Ballard or Swedish First Hill Birth Centers), please register for Penny's classes at the Great Starts of Parent Trust website. The classes below are for students giving birth at home or in a free-standing birth center.
*Penny's classes are held at the Center for Birth on Eastlake Ave, April's are taught in her home in West Seattle, and Sharon's classes are held in the Muza Education Center in Ballard. Directions will be provided prior to class start date.
Class not available?
If our classes are full or we don't have a date that works for you, we highly recommend Sharon Muza's

Birth & Baby YOUR Way Childbirth Class Series.
Meet April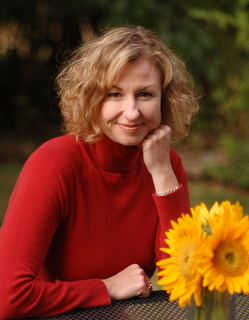 Dr. April Bolding, PT, CCE, CD is a physical therapist who specialized in perinatal issues after giving birth to her first child. She holds a doctorate in physical therapy, is a childbirth educator and consultant, birth doula, water fitness instructor, presenter and author. She teaches out of hospital birth preparation classes through Penny Simkin's office as well as private childbirth classes in her residence. She is a physical therapist who specializes in Women's Health. She helps women of all ages, including pregnant and postpartum mothers who are experiencing pain or dysfunction in their bodies, including their pelvic floor. She is co-author of Pregnancy, Childbirth and the Newborn and a contributing author to Our Bodies Ourselves Pregnancy and Birth. You can find out more about her services at her website, Birth Portal.com.